Cowboy Bebop (TV)
© Sunrise Inc.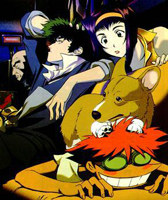 Alternative title:
カウボーイビバップ (Japanese)
星際牛仔 (Chinese (Taiwan))
카우보이 비밥 (Korean)
Objectionable content:
Intense
Plot Summary:
Spike Spiegel, a bounty Hunter with a dark past, lives on bounty to bounty, barely making it each time, or not making it at all. His partners Jet Black, Faye Valentine, Ed and Ein the dog all help him in his adventures from planet to planet.
User Ratings:
11632 ratings have been given [details]
Running time:
25 minutes per episode
Production cost:
¥20,000,000 (per episode)
Vintage:
1998-04-03 to 1998-06-19 (first run, 12 eps)
1998-10-23 to 1999-04-23 (second run, full 26 eps)
2000-10 (France)
2001-09-02 to 2002-02-15 (USA)
2001-11-01 (Latin America - Locomotion)
2001-11-22 to 2001-12-26 (K3 - Televisió de Catalunya)
2003-01-08 to 2003-09-10 (Germany, TV-Channel: MTV)
2005-11-04 (The Netherlands)
2005-12-13 (Spain, Cuatroº)
2006-01-18 to 2006-03-16 (Singapore, Arts Central Broadcast)
2006-12-24 to 2007-06-17 (Canada - Razer)
2009-03-02 to 2009-04-06 (Philippines, Animega on TV5)
Opening Theme:
"Tank!" by Seatbelts (eps 1-25)
Ending Theme:
#1: "The Real Folk Blues" by Seatbelts featuring Mai Yamane
#2: "Space Lion" by Yoko Kanno/Keishi Urata/Sydney Thiam/Michel Reman/David Mirandon/Philippe Drai/Philippe Nalry (ep 13)
#3: "Blue" by Seatbelts featuring Mai Yamane (ep 26)
#4: "Recover the Sky of Day" by Shakkazombie [ep 27, ep XX recap]
Comment:
Cowboy Bebop was first broadcast on TV Tokyo with only 12+1 episodes (2, 3, 7-15, 18, plus a recap episode) and was later re-broadcast on WOWOW with the full 26 episodes.
You can contribute information to this page, but first you must login or register
This encyclopedia is collaboratively edited by the users of this site
# A B C D E F G H I J K L M N O P Q R S T U V W X Y Z
Anime anthology